Many smart TVs (and other devices, such as Blu-Rays) are compatible with technologies to send content from our mobile phone directly to the television. The most popular technologies are: Miracast, DLNA and WiDi. In the manual or box of our television we can see if it is compatible with any of them. Although in order to use it, you will first need to connect your Smart TV to the internet.
Miracast
Miracast is similar to the HDMI cable in the first section, but without cables. That is, it is a way to see the screen of our mobile on the television. But if we turn off the mobile screen, we will also stop seeing it on the television.
It is compatible with Android phones 4.2 or later natively (it is not an app that we can download). To find out if your mobile can use Miracast, go to Settings> Display, and look for a screen mirroring or wireless screen option
Our TV has to bear it too As a matter of fact, smart TVs from Sony, LG and Samsung began to support this technology from 2013, although some models from the end of 2012 were already compatible. On the official Miracast page you can check all the compatible devices.
If our receiving equipment is not compatible, there are adapters that connect to the HDMI or USB ports of the TV. Microsoft, for example, long ago launched the Microsoft Wireless Display Adapter, which allows you to use Miracast on any monitor or television. Belkin also has another adapter.
DLNA
The DLNA (Digital Living Network Alliance) is another common standard between Smart TV. Unlike Miracast, we cannot see the screen on our TV. It only allows us to see photos and videos that we have on the phone. And also play internet videos through some compatible applications. As with Miracast, our mobile and television must be connected to the same network and be compatible with DLNA.
Apple TV, or how to connect an iPhone mobile to the TV
To connect an iPhone to the TV you have several options. The first and most important is with Apple TV, through Airplay. The second is with an official Apple cable. And the third is with Chromecast, which we have already explained.
Options to connect an iPhone or iPad to television
Apple tv

Via cable (official Apple)

Chromecast



The Apple TV lets you share any iOS device screen on the TV wirelessly. We only need to have the iPhone and Apple TV connected to the same Wifi network and use the Airplay option, which will do all the configuration automatically. With models prior to the iPhone 4S, you will not be able to see the screen on your TV but you will only be able to play certain content.
In addition to watching our mobile on television, Apple TV has its own applications that we can control with a small remote. We can also play content from the computer or iCloud.
It is not the cheapest solution, since the price of Apple TV is around 79 euros.
The main advantage is that it is within the Apple ecosystem there are no compatibility problems. On the other hand, that is also a disadvantage, since you can only use it with iOS devices (while Chromecast works with both Android and iPhone). On the other hand, some popular apps are not available to use with Chromecast natively while they can be used with Apple TV, such as Spotify.
Connect the Iphone to the TV, by cable
Using an A / V adapter from Lightning to HDMI we can connect the TV with our iPhone. For older televisions there are component adapter cables. These cables, available in the Apple store, are worth 49 euros (the HDMI) and around 39 euros (the composite). If your iPhone is 4S or earlier (with 30-pin connector), there are white label copies for about 10 euros.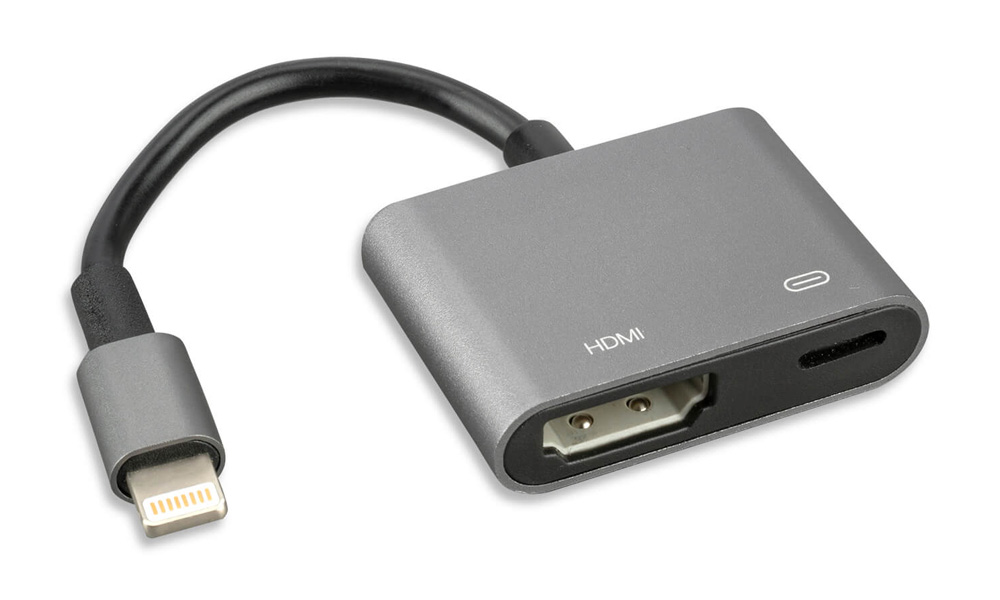 Connect the smartphone to the TV, very simple
As you can see, there are a wide variety of options to connect your smartphone to the TV:
For occasional use.

The simplest is

by cable

, as it requires fewer configurations and is a direct form of connection in which you do not depend on the Wifi signal

.

For users who want to use this feature more often, it depends on the equipment you have.

Do not forget that your TV must find a place with a good WiFi signal.

If you have a Smart TV and you only want to see your mobile screen on TV,

Miracast

is for you.

You don't need to buy anything else.

If you want to watch some internet on TV and use your mobile at the same time, then

Chromecast

is a very good option at an affordable price.

Especially with compatible apps (YouTube, TVE, etc.).

If you are used to using Apple products and you like their system, try

Apple TV

.