PayPal (Paypal) is the largest debit electronic payment system for paying for purchases on the Internet, sending and receiving money transfers.
Founded in March 2000. Now works in 202 countries. Over 250 million people are registered in the system. For calculations, you can choose one of 25 national currencies.
Since 2002 – a division of eBay. In 50% of cases, it is used to pay for goods purchased at this popular auction.
The main advantages of PayPal are simplicity and convenience, safety for the buyer and seller, protection of their rights. The main plus is the free use for the buyer. This is how PayPal differs from many other payment systems (for example, WebMoney).
Registration with PayPal
To pay through a secure connection, the user needs to register on the website https://www.paypal.com, confirm the account, and at the time of payment specify the email address and password.
Registration in Paypal system is simple, it consists of 2 steps. On the first page, the country is usually displayed automatically. You must provide an email address and enter any password twice. Then a second window opens in which you need to fill in several fields. You will need to provide personal data: name, surname, date of birth, full address, current phone number. Nationality is selected automatically. All field names are displayed in English, but will not cause difficulties with translation, even for a student.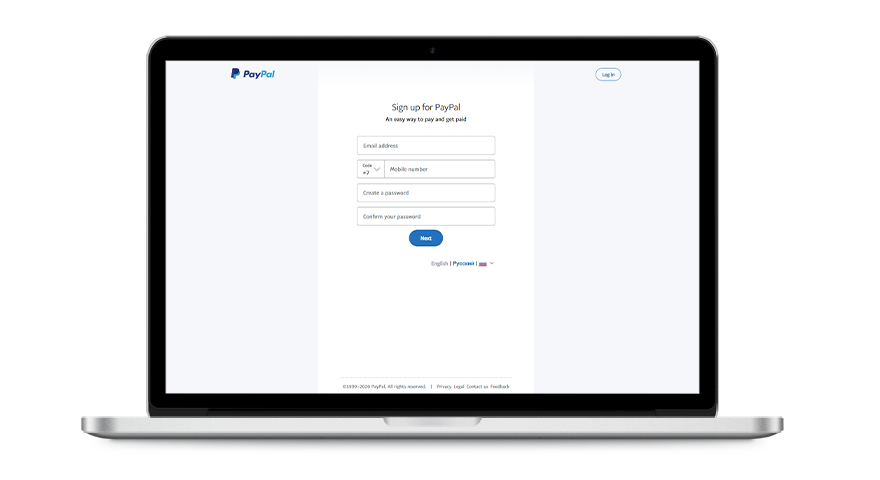 Then an instruction will appear on how to get a code (4 characters), which must be reported to PayPal in order to confirm your own identity.
Using Paypal
If a person buys a product that will be delivered later (for example, by mail), then the seller will not receive money until the receipt of the parcel is confirmed. In addition, the buyer has 180 days in stock after payment to open a dispute if the goods arrived differently or not received at all. When the two parties cannot agree, the dispute is translated into a claim (after opening a dispute, this can be done within 20 days). The final decision is for PayPal. If the buyer is right, all money is returned to the paypal wallet, including shipping costs.
Commission
Free registration. However, upon confirmation of the account, a small amount is debited from the client's account (up to $ 2).
Transfer of funds to other members of the system is free. But for accepting payments you have to pay a commission.
Helpful advice: you should turn off automatic currency conversion from PayPal (so as not to pay the system for this service). It is better to convert through the issuing bank.
When sending personal transfers within Russia, no commission is charged from the PayPal balance. For transfers from a card linked to the account, the commission will be 3.4% and 10.00 Russian rubles. In case of currency conversion, additional commission is charged.
When transferring funds abroad, an additional commission of 0.4% to 1.5% is charged, depending on the country of destination. Also, if funds are received from your bank card, a transaction fee of 3.4% + 10 ROS is charged. rub.
Sellers pay a commission ranging from 2.9% to 3.9% of the cost of the goods + 10 Russian rubles per operation. The commission is based on your sales volume and whether you sell domestically or internationally. The commission is lower for sellers whose turnover exceeds 1.5 million Russian rubles per month and will amount to 2.9%.
How to fund your Paypal account
In many countries, this can be done in cash. It is more convenient to link a bank card to the Paypal system in order to pay online from it. You can add a card in your personal account.
You can also top up your Paypal account with a transfer from other users, but this option is not available in all countries. In Belarus, you cannot receive money to your Paypal account – except for refunds.
Hope the above article is helpful. Get more tutorials like this please visit us on our official web page.