How to watch movies in 3D on your computer without spending money on expensive equipment? You just need to make a minimum of effort and cost, but otherwise this step-by-step guide will help you and watching three-dimensional films on your computer will become a reality.

Movies in 3D can be watched on a special TV with a Blu-ray player, you can watch them on a computer with a 3D monitor and a powerful video card. You can watch in the cinema, but only new films that are currently being shown are shown there. Or you can watch an old simple movie in 3D format on a regular computer or laptop, where only a minimum of costs and a little time are needed.
To watch movies in 3D on your computer you will need:
Computer / laptop by itself.

The KMPlayer with Anaglyph.ax filter installed.

Anaglyph 3D glasses.
Let's take a closer look at glasses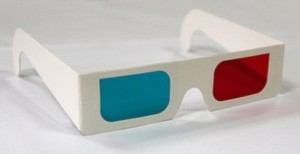 Where can I get such 3D glasses?
Any electronics store. They cost from 100 rubles and more, depending on the quality and material. But simple anaglyph glasses (red-blue) can be made by yourself. To do this, you need either two pieces of film (red and blue), or markers and transparent plastic (from a DVD box, for example), paint over them, the left eye is red, the right eye is blue. And you can come up with a mount, you can use some old glasses, take off the lenses and put multi-colored plastic pieces.
Here is a rather interesting short video where you will understand everything about how to make 3D glasses yourself:
How to watch movies in 3D on a computer?
Now, after a little needlework (if you, of course, decided to make 3D glasses yourself), we proceed to the main process, downloading and setting up everything that is needed to watch movies in 3D format on a computer.
Step-by-step instruction:
Download "The KMPlayer"

.

And we install it on our computer.

Next, you need the Anaglyph.ax filter,

It is this filter that will allow you to view ordinary films on a computer in 3D.

Now you need to move the Anaglyph.ax file that you just downloaded to the folder with the installed KMPlayer. Open the system drive (usually drive C), then -> Program Files -> The KMPlayer. In 64-bit versions of Windows

, The KMP folder is located by default – "drive C -> KMPlayer").

And move Anaglyph.ax to this folder

.

Next, launch KMPlayer.

Press the F2 key, we get into the settings – the "Configuration" window.

Further left in the column select "Filter Manager".

Click on the "Add external filter" button.




In the window that opens, go to the KMPlayer folder (C -> KMPlayer, or C -> Program Files – KMPlayer) and select the Anaglyph.ax filter from the list of files – click the "Open" button.

Now that the filter has been added, you need to double-click on it in the list with the left mouse button.

Set the settings, the glasses are red-blue (if you use just such glasses), the depth of the scene is 15 by default, you can reduce it somewhere 5-10 (later, after the experiments, choose the most suitable value).




Click Apply and Ok.

In the priority settings, set – "Use forcibly".
After that, start any movie and press the button with the 3D sign at the bottom left. The film must be played in three-dimensional format. You can switch back to 2D mode by pressing the button in the player again.
Tip: Be sure to try different color depth options in the Anaglyph Filter settings. For different films, different settings can give the best effect, you can experiment and set the middle ground for all films so as not to go into the settings every time
If KMPlayer displays an APPCRASH. Try disabling the forced use in the priority settings to "Set to power (in hex)".
So, by spending a minimum of time and money, you can make watching movies more enjoyable and interesting. Hope the above article is informative. To get more tutorials like this please visit us on our official web page.